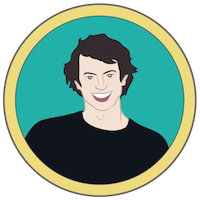 Email Me: jared (at) jaredandrews (dot) com
Online Profiles: HN, reddit, Instagram, GitHub, LinkedIn, Bandcamp, Discogs, Printables
Greetings! My name is Jared Andrews. I am a mobile developer at Bandcamp and mentor for FIRST Robotics Team 1735. The purpose of this website is to host content I created that has nowhere else to live. What that entails will become clearer over time :D
Technology Interests
Structurally Sound Android Development
Android UI and Unit Testing
Static Sites (Why is everything on the internet so slow in 2021!?)
Artificial Intelligence
Cellular Automata
Generative Art
The Post Automation World
Other Interests
DIY Music, DIY everything really
Motorcycle Riding and Maintenance
Wood Working
Rock Climbing
SCUBA Diving
Fringe Cultures
Photography and Video Editing
Portrait Graphic by Alyssa Alarcón Santo, based on a photo by Townsend Colon.
Content on this site is copyright 2015 to infinity unless otherwise stated.
Any code on this site can be considered MIT licensed.
Any views expressed on this site are those of the author and do not reflect views held by past or present employers.